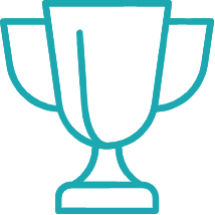 Yearly Sales Achievement
Michael Lepore & Associates has garnered yearly Royal LePage sales achievement awards and consistently rank in the top agents in their office and market place.  They have also reached the Real Estate Board of Greater Vancouver's MLS Medallion Club, which acknowledges agents in the top 10%.
Testimonials
If you are looking for an exceptional realtor look no further than "Move with Mona". She was extremely helpful every step of the way in the sale of my aunt's apartment….. from cleaning staging & removal of hoarded junks & old furnishings. She is professional in dealing with my renter when showing the apartment & whenever I need a question answered. I highly recommend Mona if you want a realtor that cares not only of the sale of your property but also your emotional needs at this stressful time. Thank you, Mona.
– Eunice Mew
My partner and I are first time home buyers. We are regular people with a modest budget, but Mona made us feel like we were a priority. Mona worked incredibly hard to help us find the right place. It's no exaggeration to say that we could not have done this without her. Thank you Mona for going above and beyond for us.
– K. Joubert 
Mona Lamarche was highly recommended by a close friend. From the moment we met her we knew she was an expert in the field. She has years of experience throughout the lower mainland, a definite advantage for both buying and selling a home!We met with Mona weeks before listing and in a crazy market, we wanted to purchase before selling our current home.Mona was available every step of the way. She was patient, kind, reassuring and available at all times.We strongly recommend Mona Lamarche as she is an outstanding realtor!
Thank you Mona for your continued support and expertise throughout a stressful process.
– Liz & John Ribeiro
Mona came very highly recommended, but nothing could have prepared us for just how awesome she is. Having not sold a house for 20 plus years and being in the middle of a pandemic, we were prepared for this to be a very long and stressful process, but that wasn't the case at all! Not only did she get our house sold quickly, she was 100% attentive to our needs and wants and walked us through every step of the way. No question was too trivial and she offered her full support in every decision we needed to make. From the first phone call to hanging up the sold sign, Mona was professional, personable and hardworking. If it was possible to give Mona 100 stars out of 10, we would. She really is the best!
– Dave B. & Rebecca T.
Mona came highly recommended by my accountant. Indeed, we found Mona to be an earnest, sincere, diligent and committed realtor, the best we have ever met!
Mona remains cool and calm, efficient at all times. In one instance, Mona rescheduled and expeditiously made alternative plans in less than a day when crises arose such as an erroneous termination of electricity in the apartment.
Mona goes the extra mile in our dire needs during the course of sales, providing critical support to my family and I who are non-residents of Vancouver. Examples include service appointments arranged by Strata for dryer vent cleaning and fire alarm checks. When the single lift in the condominium was out of order, she climbed up to the fifth-storey apartment several times for viewings and Strata appointments, not allowing the faulty lift to dampen her spirits at all!
To our endless queries sent to her late into the night (due to our time difference of 12 hours), Mona is always prompt in her replies and follow-ups. She even assisted to contact the lawyers, especially with the law firm of the buyer to ensure a smooth and timely closure of the sales transaction!
Even though we were unfamiliar with BC laws and requirements, we can depend on, and are thankful for, Mona's clear explanations on the required administrative work and processes.
Without Mona, we would not have gone through the complicated process as smoothly as we had for our successful sales of the apartment. In short, Mona is a gem, an angel and a godsend! You will not go wrong by choosing her to represent you!
– Christine T
I cannot say enough about this incredible lady who knows her stuff about the current market and how to meet her clients NEEDS. She pays attention and LISTENS. Her Collaboration centre was fun and easy to use! SHE KEPT US FOCUSED and informed She explained the process step by step and made sure we had no surprises.she hooked up us with quality people for staging, inspections and moving. This is our second time Moving With Mona. Mona Rocks with all her tips n tricks… she even may share some nutritional wisdom.
– Laura C & Kevin S, New Residents of Pitt Meadows
After trying two "high end "specialists to sell our home with no success over a twelve month period we were privileged to have Mona market our property. Mona's advise and creative use of social media saw immediate results with continuous showings, open houses and a level of interest from purchasers we had not previously experienced.
Mona has now assisted our family with a total of five sales and purchases. In the current Vancouver real estate market it is important to have a dedicated advocate working for you. Mona Checks all the boxes.
We would highly recommend Mona if you are looking for a professional who delivers results.
– Gary & Carol L
Several years ago, Mona found us our dream home. We were so impressed with her knowledge, professionalism and clarity throughout the whole process. She immediately analyzed and anticipated our needs and wants without wasting a second of our precious time. We have since used Mona to downsize my elderly father and saw a whole new level of patience and compassion in her. Mona is a consummate professional and truly a"quality" person whom I recommend wholeheartedly.
– Janene S
Mona has been my wife's realtor for years and recently I had the opportunity to see firsthand why this has been the case as she represented us in buying our home.Mona is the consummate professional; extremely knowledgable and current, clearly client-first, highly ethical and a skilled negotiator. Her understanding of contracts was a significant benefit to us.She is punctual, always prepared and her efforts have continued post sale in the same stellar manner. In addition to her exceptional and finely tuned skillset, Mona is also a tremendous individual; honest, forthright and quite enjoyable to be around.Mona took the stress out of what is a stressful event and made the process fun. I respect her greatly as a sales professional and value the friend she has become. Simply put, in theLower Mainland, one would be crazy not to "Move with Mona".
– Clayton S
I thought doing our offer so late at night was something extra special. We thought we would have to wait until the next day. Thanks for much for everything. We love the house!
– Duane & Janice M
Mona made me feel like I was her only customer, and that I had known her for years.
– Debbie O
In the last five years, we have listed and purchased three additional properties with Mona, and even during difficult market conditions, we were able to sell quickly and with a good return. We have always found Mona to be well organized, professional, and proficient in all aspects.
– Mark & Louise G
Mona has been our go-to for our last two homes and I wouldn't dream of working with anyone else. Whether buying or selling she is professional, knowledgeable and just a pleasure to work with.
– Ian S
Mona was incredible helping me buy a home during a very stressful time in my life. She was a steady ship and knew what I was looking for even when I didn't.She knew how to work with other realtors in a very competitive seller's market.Looking forward to working with her again if the time comes.
– Carolyn P
Mona, was highly recommended to me through a good friend of mine. She became a friend through the process of buying my first own home! I highly recommend her services, if you want someone that can make sure all your best interests are taken care of, in every way! Thanks Mona.
– Lori-Beth M.
Mona is more than a realtor to us. She gives superb advice for real estate to her clients. Her work ethics and honesty win our trust so we "move with Mona."MONA EST GÉNIAL!
– Jen N.
Mona is that professional realtor you are looking for. I've "Moved with Mona", and experienced excellent honest and thorough service.
– Sharon A.
Mona is professional, detail-oriented & a strong negotiator. I'm happy she's on my team, she gives great service.
– Kevin W.
Community Involvement
Mona is a supporter of the Royal LePage Shelter Foundation and Children's Miracle Network (BC Children's Hospital).  She is an experienced member of  Kerrisdale Toastmasters, in Vancouver and has been an enthusiastic mentor since 1995.  In her spare time, Mona likes to clean the beach of debris, plastic, and other interesting finds.  You can follow her beach cleaning journey on Instagram @im_movewithmona
Contact Mona
Connect with Mona to get listing updates, discuss selling your home, or for more information on our home buyer services